Meet The Presley's
At Presley Limousines, our vehicles are more than just modes of transportation; they're personalities in their own right. Introducing our star limousines: "The Mighty Elvis" and "Sweet Priscilla." Each limousine, with its unique name, offers a distinct experience, ensuring that your journey is as memorable as the destination.
The Mighty Elvis
Elegant, powerful, and always ready to make an entrance, "The Mighty Elvis" is the epitome of luxury and style. Whether you're heading to a grand event or simply want to enjoy a night out in town, this limousine promises a ride filled with comfort, entertainment, and sheer opulence.
More Details
Meet Elvis. Awesome Cadillac Escalade Stretch
This Limousine is perfect for  your large gathering for any event. Two bars and all glassware. Connect to our bluetooth stereo  and rock out.
Sweet Priscilla
Charming and sophisticated, "Sweet Priscilla" is perfect for those intimate gatherings and special occasions. Don't let her graceful appearance fool you; she comes equipped with a state-of-the-art sound system and plush interiors, ensuring that every moment inside is a celebration.
More Details
This is Precious Priscilla. Beautiful Lincoln Stretch
Priscilla is perfect for the more intimate gatherings and for weddings. Don't let the  classy look fool you, Priscilla has a wicked sound system via Bluetooth so rock on! 
Satisfaction Guaranteed
Your satisfaction is our top priority. At Presley Limousines, we pride ourselves on delivering impeccable service, well-maintained luxury vehicles, and a seamless booking experience. We are dedicated to ensuring that every trip with us exceeds your expectations.
Booking for a Limo Has Never Been Easier
Booking a limousine should be hassle-free. With our user-friendly online booking system, you can reserve your luxury ride in just a few clicks. Whether it's for a special event, airport transfer, or a night out, we've got you covered. Plus, our dedicated customer service team is always on hand to assist with any inquiries.
We customize your event
One of our favorite things to do for our guests is to personalize your event with the event party theme. It is your day and we arrive with the Red Carpet. Planning a surprise party is our favorite.
Spending time with the ones you love!
Limousines service isn't just for weddings and Proms anymore. Our Services has no rules. There doesn't have to be a reason to gather your family and friends and pile into one of our awesome Limousines. The party starts as soon as you get in, everyone is together, play some good music, drink and be merry. But best of all, get there and back home safely and in style. Time is too short not to enjoy the ones you love.  Do it in a Stretch!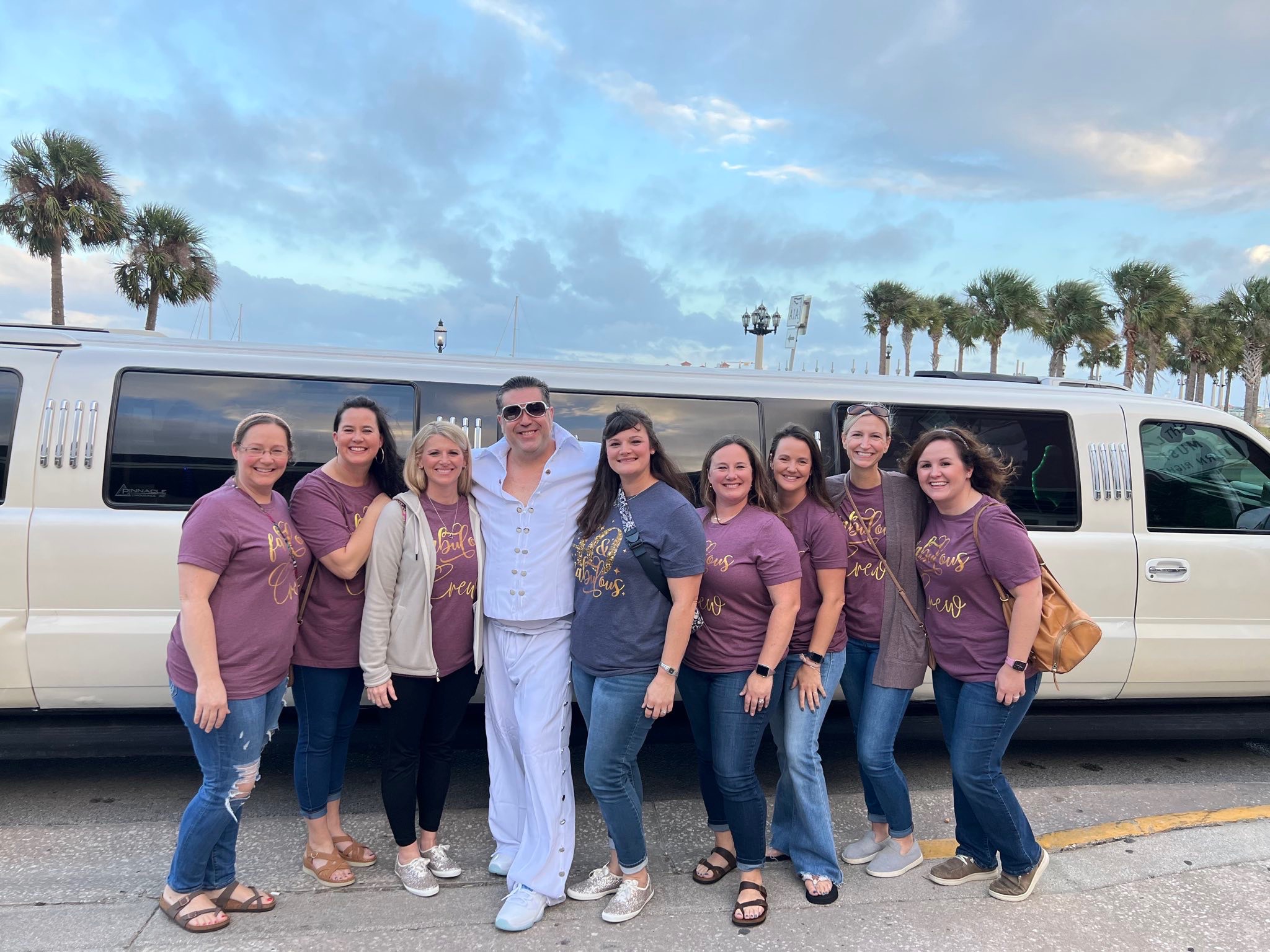 Awesome experience would definitely recommend. Very nice driver and a very nice ride.
Amazing service! They went above and beyond to make sure our birthday party was a great experience. 
Our limo arrived on time, rolled out the red carpet, and had refreshments ready for us. I couldn't ask for a better experience.
Types of events you can do with a Limousine service
Weddings
Your wedding day is one of the most special days of your life. Arrive in style with our luxurious limousines, tailored to make your big day even more memorable. Our professional chauffeurs ensure timely arrivals, and our vehicles come equipped with all the amenities to make your journey comfortable and elegant.
Birthdays
Celebrate your birthday like never before! Our limousines are perfect for birthday parties, ensuring you and your guests have a fantastic time. From music to refreshments, we've got everything to make your birthday ride unforgettable.
Conventions
Make a lasting impression at business conventions with our premium limousine service. Arrive like a VIP and ensure your corporate events are marked with class and sophistication.
Funerals
During somber times, we're here to offer a reliable and respectful limousine service. Our vehicles and chauffeurs ensure that you can pay your respects without any added stress.
Concerts
Heading to a concert? Make it special with our limousine service. Enjoy a luxurious ride to and from the venue, making your concert experience even more memorable.
Sporting Events
Arrive at the game in style with our premium limousines. Whether you're heading to a major league match or a local sports event, our limousines ensure you make an entrance worthy of a VIP. No need to worry about parking or navigating through game-day traffic; just sit back, enjoy the onboard amenities, and get in the spirit of the game. Perfect for groups, our limousines offer a spacious and comfortable environment to discuss game strategies, player stats, or simply relish the anticipation of the match.
Contact Us
At Presley Limousines, we value our clients and are always here to assist. Whether you have a query, need a quote, or want to share feedback, our dedicated team is just a call or email away. Located in the heart of Palm Coast, FL, we're your go-to limousine service provider.
(386) 237-9677 (For fastest response)
Located in Palm Coast, FL